On a whim I planned a 3 day Norwegian adventure for me and three of my co-workers. A fun filled 72 hours is definitely not enough time to enjoy this beautiful country, however we made the most of it! Our journey started with a flight from Minneapolis to Amsterdam. We bought a standby ticket on Scandinavian Airways to get to Oslo. It was a long journey and we arrived in Oslo in the early evening.
After checking into our hotel we decided to venture out into Oslo central for dinner and sightseeing. The long travel exhausted us, so after dinner we headed back to the hotel to get a good night's sleep. The next day our road trip from Oslo to Bergen would begin.
Roadtrip!
Views from the Drive from Oslo to Borgund.
Day 1: Our morning started out with a delicious breakfast of meat, cheese, breads, butter and milk at our hotel. We had two stops to make before we stopped for the night in Flam. Our first stop was at the Borgund Stave Church, one of few preserved Stave Churches still standing in Norway.
After exploring the museum and walking around the church we headed to our next stop – the Stegastein viewpoint. I love a good adventure and driving across Norway is definitely that! The winding mountain road with switchback after switchback was utterly nerve racking yet so worth it! Just know, if driving this road isn't your thing, you can get there via a bus and someone else can do the driving! The pictures do it no justice, it's something you have to go see yourself.
Day 1 Evening: After making our way down the mountain we set off to our final destination of Flam. We checked into the Flam Hostel and wandered around the town before stopping to eat at the Aegir Brewpub. We had a private 4 bed cabin but they have dorm rooms as well as camping on location. If you find yourself in Flam, stop by the brewpub for a good beer and delicious food. It's got a cool mid-evil vibe.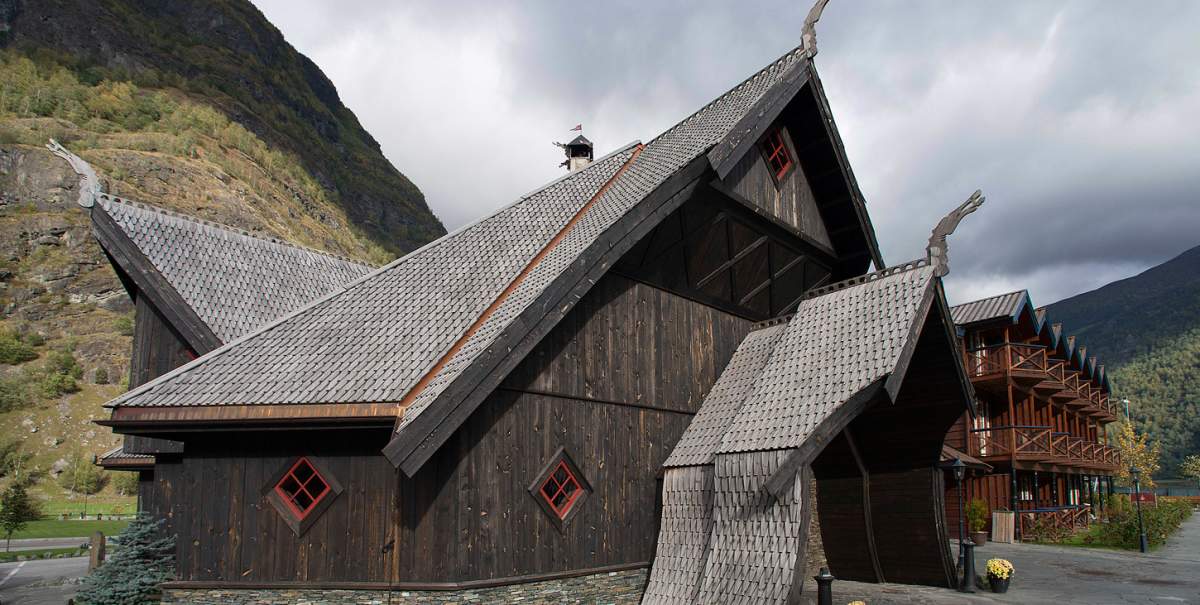 Day 2 Morning: We started our jam packed day with a coffee and pastry from the Flam Bakery before boarding a train. The Flam railway runs through the beautiful mountain of Norway and is such a scenic ride. We rode the Flåmsbana round trip from Flam to Myrdal which took 2 hours. The train makes a stop a long the way allowing passengers to get off and see a waterfall. You'll find mysterious music starts to play and a mystery women dances up near the waterfall.
Day 2 Afternoon: Once we arrived back in Flam we stopped at the Toget Cafe for some lunch. After lunch we did a little window shopping before boarding our boat for the Fjord Tour. If you visit Norway a Fjord Tour is one thing I will highly recommend. The views are tremendous and never get old! One thing I found fascinating are the houses tucked away along the route we took. How amazing to wake up to that view everyday! Next time I head to Norway I will definitely do some camping and kayaking through the Fjords. We took the Nærøyfjord Sightseeing tour that starts in Flam and ends in Gundvangen, with a return bus to Flam.
Day 2 Evening: Once we arrived back in Flam from the Fjord tour we headed out to Bergen. We returned our rental car at the Bergen Airport and took the train to central Bergen and checked into our Airbnb. After getting settled into our accomodations we walked around the neighborhood we were staying in and had dinner at Peppes Pizza. We headed back to rest up for the next day exploring Bergen.
Day 3: It was our final day in Norway so we got an early start exploring the city of Bergen. We started by walking down to the Bryggen area to catch the funicular up to Mount Floyen. At the top we stopped for coffee and a snack while we sat and enjoyed the view of the city. We wandered around the top before hiking back down. Once at the bottom we wandered around Bryggen the UNESCO listed old town. This area has shops, the fish market and restaurants and cafes. We did some shopping (best purchase were some very warm mittens that have been very useful in Minnesota!) We enjoyed a drink with a view so we could rest of feet a bit!
Day 3 Evening: After a mountain hike and wandering around the city of Bergen we stopped for dinner at Olivia. On our ride up the mountain on the funicular we chatted with a local who recommended the restaurant and it was amazing! After dinner we stayed to watch the sunset over Bryggen before heading back to our accommodations. One day of exploration around Bergen isn't enough, so I'll have to make my way back! We decided on the earliest flight out of Bergen back to Amsterdam – standby flying life!
Norway is an amazing country. It's beauty is never ending and it should be a must visit on everyones list!